The Dream English Food Chants

Free downloadable mp3 Classroom Food Chants. These chants match the free Food Flashcards at MES English. You can download these chants, burn them onto a cdr and bring them to your classes. It is great practice for pronunciation, and a fun way to learn the words.
Food Chant Vocabulary: salad, bread, spaghetti, soup, fish, chicken, corndog, French fries, cheese burger, hotdog, pizza, a sandwich, a taco, cereal, cheese, bacon and eggs, rice, steak
Click on a chant description to download the chant for free!
1. Straight Vocab: salad, bread, etc.
2. I like salad, I like bread...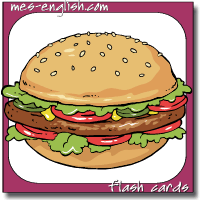 Don't forget to download the Free MES English Food Flash cards to use with these chants.
For free listening exercises and matching worksheets to use with this vocabulary, please visit 123 Listening!


Note: If you download a free song, please either sign up for our mailing list, or send me an email and say hello. If you like the song, please tell a friend by clicking on the email button in the player below. Thank you.

Have any game or teaching ideas? Please send me an email and let me know!
If you like this page and song, please tell a friend!

Also, feel free to email me with any questions!
email: matt (at) dreamenglish.com
change (at) with @